This post contains affiliate links, this means if you purchase these items you are supporting my blog and helping me to continue to spread the message of A Learning Lifestyle. Thank you, I am so grateful.
The thought of me leading my kids in an art class makes me laugh out loud! I have no ability at all….I'm not just saying that. I CAN NOT DRAW at all! I do consider myself a creative person, but actually being able to recognize what I draw…..yeah NO, not happening. Can you relate? I have the solution….
Chalk Art Video Lessons IS THE ANSWER!
Not only do these videos make it easy to lead art by simply hit play, but only require things FOUR supplies!
Supply #1 Computer, laptop, or tablet to view videos
Supply #2 Copy paper or Construction paper
Supply #3 Damp Paper towel
Supply #4 Soft Chalk Pastels, we used these
HOW SIMPLE is that list? Easy peasy, right? Wait it gets even better…. Your kids can even try their hand at chalk art pastels for FREE if you go check out YOU ARE AN ARTIST Facebook page. They are very generous with their free videos.
"Chalk pastels are truly art for all ages. No prior skill level necessary. Chalk pastels are a unique art medium. Younger artists find chalk familiar and fun. Budding artists that are upper elementary aged and older, find such freedom in independent time with chalk tutorials and creating what they please. Artists with much more practice still find chalk pastels challenging because of all the layering and 'painting of light' they can do. Adults enjoy chalk pastels too! The possibilities are endless." -You Are An Artist
Teachers: Lucia Hames (right) Tricia Hodges (Left)
Also known as Nana, Master Artist Lucia is continually learning and taking lessons herself. Her passion is to help you realize that you ARE an artist!
Homeschool mother of five, Tricia thought she didn't inherit the art gene from her mother. But as she watched Nana teach her children she started building up the courage to try chalk pastels herself. All it took was practice and the Easter Art for All Ages and Art in Space digital art curriculum was born! Yes, chalk pastels are such a fun and successful medium.
After your kids experience the fun of their first video, they will be asking for more. My kids range from 10-16 and they all enjoyed using chalk pastels for the first time a month ago. CLICK here to see how we got started with chalk art. Spring is coming! Some of you may even be on Spring Break right now…lucky ducks. So if your ready to bring some Spring in the house, looking for a fun project for the kids to do while on break, or need something take with you on vacation to whip out for the kids to do.  I've got your back!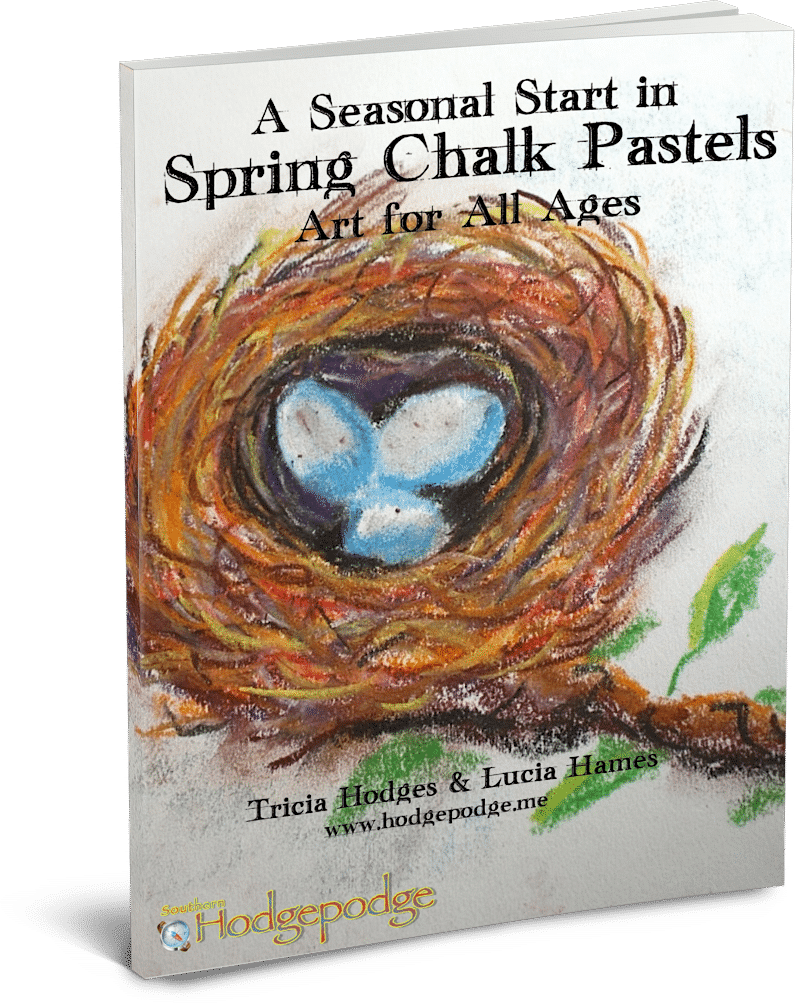 Spring Chalk Art Video Lessons
What is included in the each course?
*Step-by-step instructions
*Techniques encourage both new artists and challenge more advanced ones
*Independent learning for older students
*FAQs
*Glossary of art techniques
*Option to join You ARE an Artist Facebook group for sharing art work and asking questions.
This Course includes 10 lessons AND A Seasonal Start in Spring Pastels for all Ages E-book (shown above)
Shamrock
Rainbow
Swing
Jonquil in a glass of water
Spring tree
Spring tree reflection
Rain
Quilt
Bird's Nest
Easter is coming….
Easter Chalk Art Video Lessons 
Easter Lessons Included PLUS Easter Chalk Pastel Art for All Ages ebook
Three crosses
Crown of thorns
Easter cross
The stone rolled away
Easter lily
Palm branch
Easter eggs
The Lord's Supper bread and cup
Church stained glass window
WANT AN EVEN BIGGER BARGAIN? BUNDLE…..
Upgrade YOUR Blog Access!
Be the FIRST to hear about special deals, products, or juicy blog news!